| Item ID | Starting Bid | Bids | Current Bid |
| --- | --- | --- | --- |
| 53579 | $100.00 | 19 | $325.00 |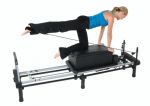 VALUE: $800
Strech away any winter blues you might have... This incredible Pilates workout package comes with everything you need to limber up over the Holiday season. Including the industry leading Stamina AeroPilates Pro, Stamina Pilates Box & Pole kit and Stamina AeroPilates 3 Cord Reformer Stand.
For more information and images please visit: http://www.staminaproducts.com/Products.cfm?category=Pilates
Included in this package:
Stamina AeroPilates
Stamina AeroPilates 3 Cord Reformer Stand.
Stamina Pilates Box & Pole 05-0025
About the Stamina AeroPilates:
Experience a challenging, shaping workout with the Stamina AeroPilates® Performer 286. Lets you perform a variety of Pilates reformer exercises to build core and total body strength and to improve flexibility. The comfortable machine features an adjustable head rest, high density foam shoulder pads, and three resistance cords. It has an ergonomically designed carriage to keep you comfortable during your workout. The Performer 286 folds and rolls for easy storage. Includes 3 workout DVDs and full-color wall chart.
About the Stamina Pilates Box & Pole 05-0025:
Box, strap, and pole included
Instructional video included
Solid wood construction
Padded, upholstered cover
Handles on both ends of Box for easy portability
The Stamina® AeroPilates® Box & Pole accessories compliment and enhance the Pilates exercise methods created by Joseph Pilates. Used in conjunction with your AeroPilates reformer, the Box and Pole helps in supporting and stabilizing your entire body and increasing your sense of poise and control.By adding elevation to your AeroPilates workouts, the durable, padded box allows you to involve more complex combinations of muscles, bringing you greater flexibility and range of motion. The extendable AeroPilates pole assists in standing exercises, allowing you to concentrate on single-leg exercises without loss of balance. The included workout video gives complete instructions on how to use the AeroPilates Box and Pole. A strap is also included.
About the Stamina AeroPilates 3 Cord Reformer Stand:
When you elevate your AeroPilates reformer, you are able to perform the more advanced movements. The elevation will also make it easier for you to move from exercise to exercise.The AeroPilates Stand is made specifically for the AeroPilates reformers that come with three cords, so your reformer will fit the stand solidly and your AeroPilates workouts will be stable. The 55-4150 AeroPilates Stand fits AeroPilates reformers with four cords.The AeroPilates Stand's six easy-to-remove pull pins allow you to assemble and disassemble your stand with ease. Each pin is held by a cord so they can't be misplaced.